News
Employee
Posted on March 26 2012
Since a couple of years I have been a employee in different work places. But don't hesitate to contact me for more information about me or my products.
Camp Site Design Bar - you're here for a reason
Posted on February 11, 2009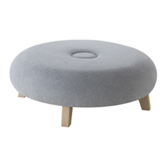 Casamania will show the Party ottoman during the Salone Internazionale del Mobile, April 22 to 27. Party is generous, upholstered pouf dressed in a soft knitted fabric. The rising shape on short legs gives the pouf a sensual but still a playful character.